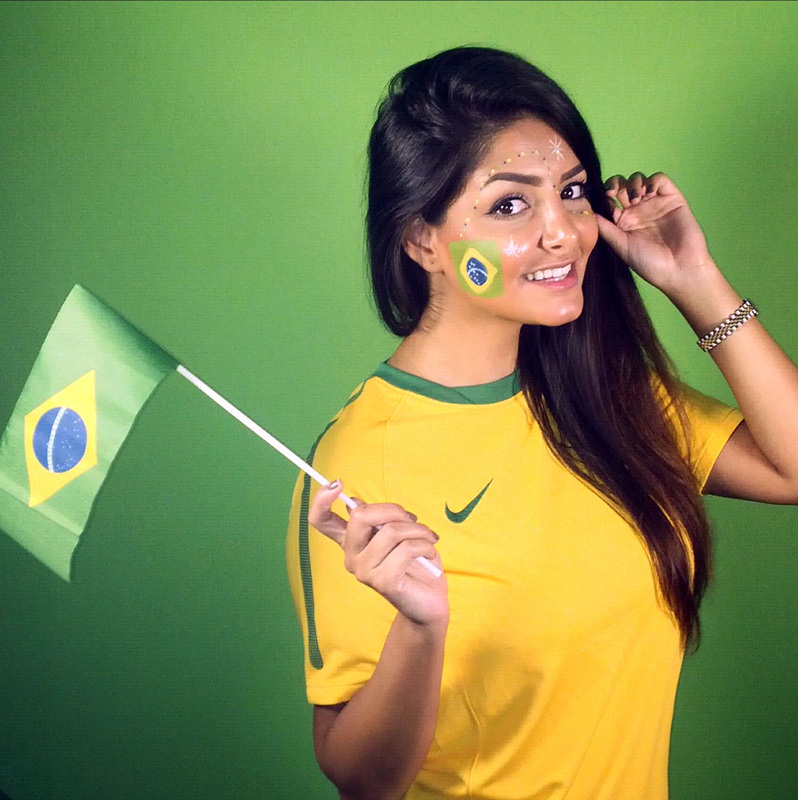 First of all i want to apologise for the quality of these images, i totally forgot to take my camera along with me. But, that didn't stop me from taking pictures on my Blackberry to share my night with you guys.
Everyone has Fifa Fever, Its coming to the end of the World Cup, and having spent most of the games glued to the television at home, we had to get out and check out the many tents created specifically for this event all over Dubai. With apparently the biggest LED screens in the region, The Dubai Marine Club had a huge and amazing set up, with sofa lounges, where they catered food, drinks, shisha, but more importantly they had face-paint stands, flags, sunglasses with the teams' flags on there; even coloured balloons to match the teams that were playing at the time.
Naturally, turning up in my Brazilian kit, (Italy are no longer in the World Cup so i support my number two team, and theres nothing wrong with supporting more than one team i say)! All excited with this football craze i ran to the face paint stand and asked them to Brazilian-afy my face!! After the man was done with my flag i told him to add some dots in the flags colours just to be different of course, and he decided to add some white stars himself even putting glitter on them so they shine! Amazing!


So with my kit on, my face on, and my flag in hand, i sat down to watch the best, i repeat, the best game of the tournament, Brazil Vs Colombia. It was so entertaining, and passionate and thrilling and exciting to watch, i was literally sat at the edge of my seat, (for sure, every now and then i would shout out in anger, but that was because the referee was absolutely useless) but i enjoyed every minute of the game.
If your wondering why i get so excited watching football, let me tell you: i was raised with two brothers who are insanely footyholics, i mean thats all that is ever on TV in my house. The television is on with one game, laptop with another and when they're out playing football themselves, the games are on record! Where every young girl would wake up on a Saturday morning, they would watch cartoons, but no, i had to watch Football Italia, starting my day with the voice of a commentator screaming, 'Goaaaaalllll Lazzziooooo', yes that was the opening of the programme! This probably explains why i have always supported Italy, watching them play was compulsory, and soon became the norm, so to not support them, was definitely against the norm for me!
Anyway, back to my night. Obviously it ended brilliantly for Brazil with a 2-1 victory, but unfortunately not only did the captain Thiago Silva (the first goal scorer of the match) got a yellow card so will be missing the next match, but also our wonder boy Neymar got a very bad back injury which will also lead him to missing the next match. And tonight is that next match, against Germany. Its no joke, they are a strong team, but i know who I'm rooting for!!
Are you watching the World Cup? Let me know your stories and where you will be watching the match from tonight?

xx