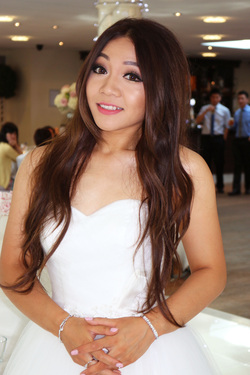 My oldest and best friend got married this week!! A lot of people know her as StyleSuzi, a successful blogger and youtuber. I know her, as the sweetest friend and most beautiful person inside and out. Even after my move to Dubai from London four years ago, distance never came between us. Asking me to be her bridesmaid was an honour, and without hesitation i was on that flight over to the UK.

The night of the wedding, i stayed with her in the wedding venue where Chinese traditions were performed - that involved her wearing a brand new pair of red pyjamas and eating home made sweets along with other adorably cute rituals all at 12am. It was so amazing for me to witness all these beautiful traditions, and being the only non-Chinese, i did of course, need translation.. which was needed through to the next day!

The day of the wedding i woke up to Suzi's voice at 6am, so calm and collected it was hard to believe she was to be made into a bride in just a few short hours. Suzi had planned out the entire wedding to a tea, all the little beautiful details, so precise, intricate and so stunning. I guess its true when they say, when you want something done, do it yourself! Maybe that was the reason why she was so calm, because she knew exactly what was going to happen, and where everyone and everything was going to be. 7.30am and there was a knock on the door. The hairdresser started on the hair of the Maid of Honour which happen to be her beautiful sister, followed by me, Suzi herself and one by one through the other bridesmaids waiting in line.

A beautiful chaotic room with makeup brushes, hair combs, bridesmaid dresses, overnight packed suitcases and tables full of food, (many untouched). We were constantly climbing something or dodging someone to get to a mirror, or our little corners spread around the two joint rooms. So many different voices, so many conversations, but as if it were a rehearsed melody, you could hear the laughter and giggles intertwine through the rooms. Everyone was excited!

But the awe of when the bride was ready! She was beautiful. Jaw dropping! Speechless, we all stood as we were reminded of why we were all there. To share the most amazing day with one of my closest friends ever. It was emotional. We were all in silence, smiles filled every face in the room and hearts pumped so nervously as we got in line to walk downstairs to the wedding venue. One by one we led the Bride and her father. The sun shining, the smell of fresh flowers, the beautiful white gown in the sun, like a diamond shining as the sun reflected the layers of perfectly pleated luxurious fabric. This was my friend, her perfect day, a moment i will cherish forever. We walked down the isle one by one to the sound of the violin, playing the tune to everyones hearts, the room was filled with so much emotion, i could barely keep the tears from falling down my cheeks. The groom stood so nervous and so in love, awaiting his bride, his queen, his wife.

From that point on, i cried rivers. It was the most beautiful ceremony ever.
It was now time to celebrate! After our photography session outside at the picturesque venue, we walked into a large room filled with white tables and chairs with elegantly tied bows. Little fairy lights climbing pillars, beautifully arranged centrepieces and floating candles in a magical arrangement. Everything was perfect. From the gorgeous cake with blush coloured roses and draped pearl detailing, to the little parisian chic styled frames that held the menu's on every table, it was elegance at its finest. Delicious food and desert, tear jerking speeches and i cannot even begin to describe the amount of fun we had on the dance floor! With so much laughter and so many tears it was one of the most emotional days of my life.

Thank you so much Suzi and Tommy for sharing this magical and most special day with me, and i only wish for everyday of your long lives ahead to be as beautiful, and filled with so much love and laughter!
Love you!

xx