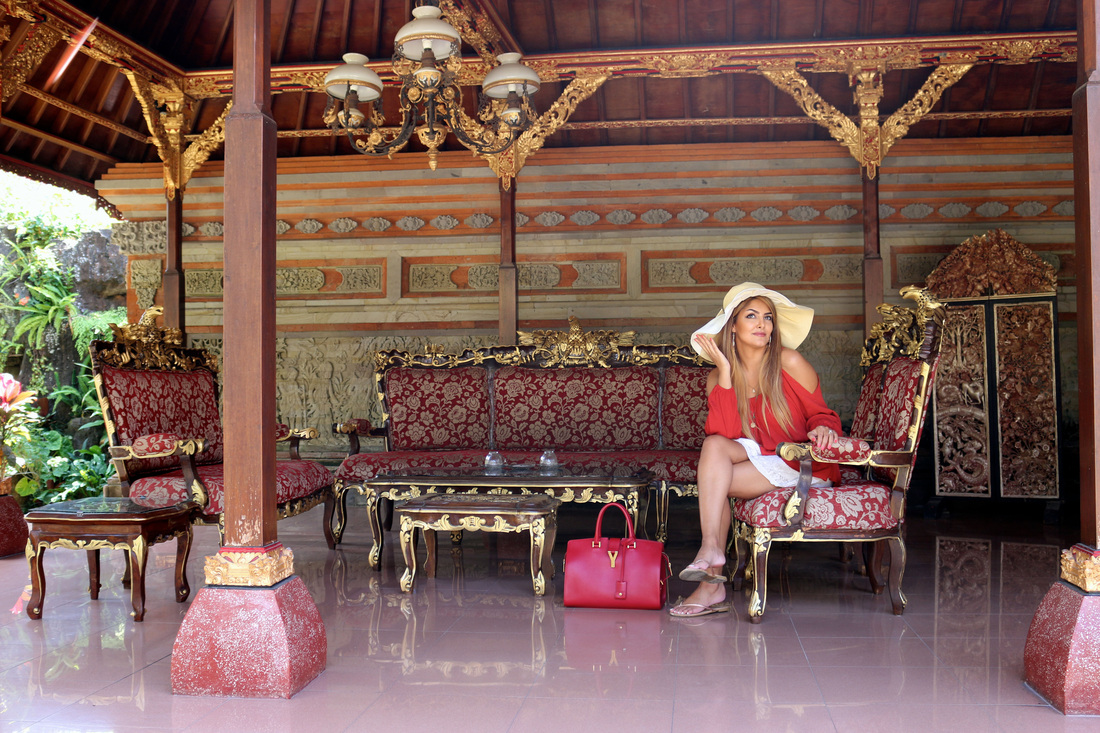 Bali is an outstanding place, and staying in Ubud, in the heart of nature and culture, it was an experience not to forget. Walking through the town, we witnessed precious temple's outside every doorstep, hand crafted ornaments sold in little boutiques, and restaurants that created the most beautiful plates that satisfied your every taste bud.

As we strolled through the market place, we came across a little pool of leeches outside one of the stores. Always being curious about the way they ate dead skin off your skin, i thought it might be a good idea to try it out now that we have the chance. The tickling sensation came as such a shock i was holding back from screaming! But later the feeling numbed to the point where i was even brave enough to duck one hand inside. My skin did feel smooth and silky after, but i can safely say, I've tried it now and once is enough!

We visited the Palace of the king of Ubud, the beautiful garden with stunning architecture, and we were privately allowed to walk inside. The main picture was taken from inside the Palace, staying true to the town's culture and heritage, the style of the palace gave the feeling of a very humble ruler. In the garden, a man sitting outside one of the doors, told us to pay him some cash and he would let us enter, even though there were 'no entry' signs everywhere. The King, (or Prince as he hasn't had the ceremony to become a king yet) and his mother currently live in this palace, though we didn't get to see them personally, we did meet a few of their workers, painting and cleaning the palace, while strolling through and adoring the gorgeous details of the building, a dog came out of one of the rooms and started following us, then another, then another, and soon, there were six/seven dogs barking at us! I didn't have a good feeling about it, i mean, its never a welcoming sign when dogs are barking at you and walking faster and faster towards you, so i thought we better get out of the palace grounds. As we headed out and back into the garden, the man who earlier let us in was nowhere to be seen! Wondering whether we just got conned or not, and the thought of being attacked by six/seven dogs for trespassing, though a little scary, i must admit was pretty funny.
Later in the evening we dined at the most popular spot in town, Bridges. A beautiful restaurant spread across three floors with views into the jungle, which served me the best three course meal i had ever had! Usually you order food in a restaurant, and you might love the starter, find the main course mediocre, and not find the desert to your liking, not particularly in that order, but the point is, its very rare to be stunned by all three courses that you order. And i was absolutely overwhelmed by how good the food tasted there. If you ever have the opportunity to visit Ubud, make sure you eat at Bridges, cause i can still taste those flavours today, and would gladly recommend it to all of you.

xx