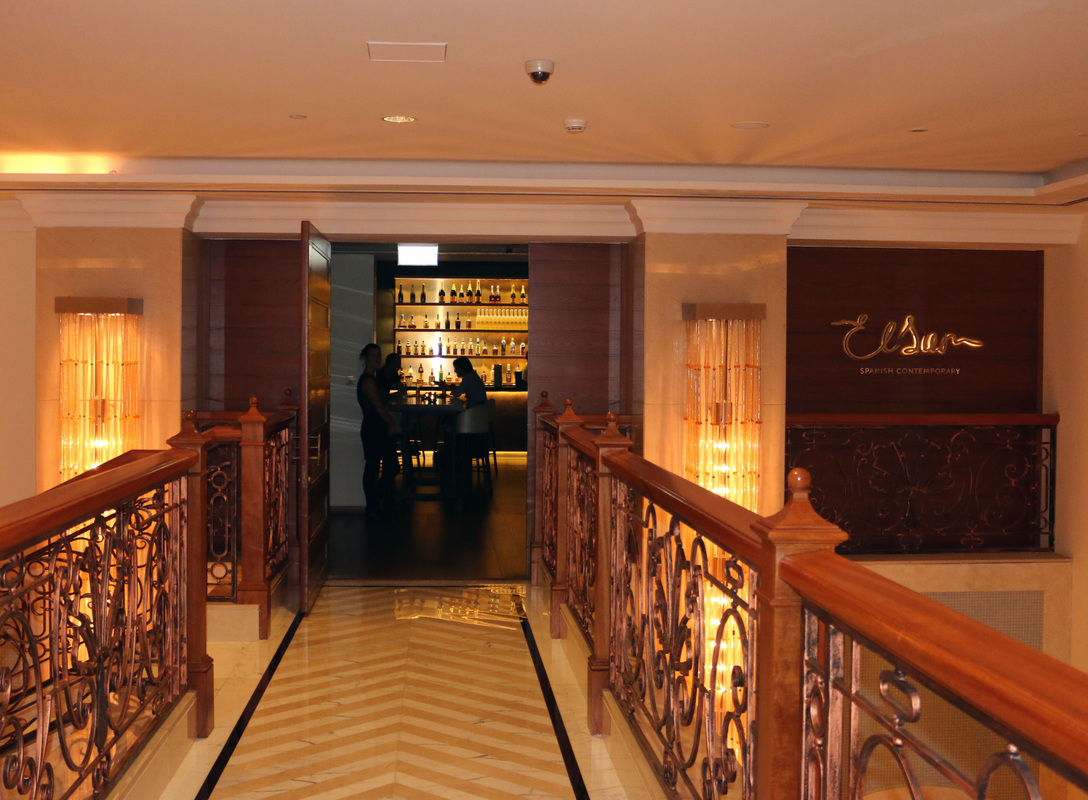 El Sur is a Spanish restaurant based in the beautiful West In, Mina Seyahi. I had yet to visit a Spanish restaurant in Dubai, and when i was contacted to review the place, i was more than intrigued. Walking into the restaurant, you are immediately faced with the bar with dim lighting, high class, but not so pretentious. A buzzing crowd of professionals filled almost the whole restaurant. We were escorted onto the terrace area which had the most stunning lamps that hung high and low in a random order that somehow created serenity. With the soft spanish music and the blissful breeze at this perfect time of the year in Dubai, the atmosphere felt magical.

On Mondays, El Sur serves a Gastronomic menu, a taster of seven items which were carefully plated with a very focused vision. Reading through the very interesting menu i could only imagine the many techniques used to create those dishes explained. I ordered a 'Poniente' mocktail which was mix of Pineapple, Mango, Limejuice and Rasberries. Just the sound of that sounds pretty good right? Well it was.

So out came the first item on the menu: Liquid Marinated Olives (which i had no idea what to expect). The little bubble that burst ever so softly with the liquid olive melting in your mouth. Nothing i have ever tried as a pre appetiser, has tasted so good and got me so excited about what was to come! The little bubble of joy came along with an 'Air bag with ham and Manchego'. The chef substituted our pork ham for a beef ham (as i don't eat pork). Again, a total delight. I love food that have interesting textures and so far El Sur has nailed this. The air bag popped at the touch of your knife/folk and a soft cheese was revealed, it was a marriage of flavours, a very successful marriage at that.

Next on the menu was the 'Burrata with Cherries and Mustard Vinaigrette', I really enjoyed this dish, the flavours combined were delicious and a perfect portion of serving.
Seabass ceviche with Citrus and Guacamole, was next out, a very light and enjoyable serving. I also love the cute presentation of this dish. Next was the main, the Red Snapper with Potatoes, Onions and Peppers. A very straight forward description on the menu, but it was far from that when the dish arrived. The fish was cooked to perfection and the flavours worked wonders, the sauce was a little too over powering for me but in moderation it definitely worked. Next up was the Braised Beef Oxtail Ravioli with Potato Foam, Unfortunately this was my least favourite dish, but beef oxtail isn't my ideal ingredient either so if you like that, then you might have a total different opinion.

Now, all hail for the most amazing, the most delicious, mouth watering orgasmic desert: Cheese Cake XXI Century! It didnt resemble a cheesecake at all, and upon arrival the waiter described it as a 'deconstructed' cheesecake. I don't think he could have put it better. Imagine your classic cheesecake with Its every element: the creamy texture, the crumbled biscuits, and the fresh fruits, delicious right? Now times that amazing taste by i don't know, infinity? Wow! Absolute divine! I actually had to close my eyes and have a little moment while my taste buds celebrated.

El Sur: a meal that started off with a bang and finished with an explosion!! What an amazing mix of flavours and textures. Compliments to the chef!!

xx